Welcome to my website and enjoy the photos!
This website contains a selection of my photos about nature, travelling and sport. If you need photos for any kind of publication, please do not hesitate to
contact
me.
New gallery - Zanzibar portraits (25.4.2012)
Before continuing with more underwater impressions from Zanzibar, lets take a closer look at the people of this fascinating island.
Chumbe Island - Submarine Impressions (10.4.2012)
The first glimpse into the amazing Chumbe Island coral reef. More impressions are coming soon!!!
New Travellog - Colombia 2011 (24.10.2011)
The travellog from my almost one month journey to colombia in September and October 2011 is online now (at the moment only in german or spanish language).
New gallery - North Spain 2010 (17.7.2011)
Two new galeries about the amazing variaty of the North Spanish landscape are online now. There are many new impressiones from underwater as well as from above...
New gallery - Lapland 2011 (April 2011)
-27°C, Artic Circle, Northern Lights, Huskys... Lapland in January.
New gallery - Extremadura 2010 (April 2011)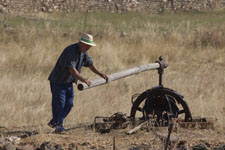 The Centre of the Iberian Peninsula in August - boiling hot temperatures but still a lot to discover. Just click for a short overview over the Extremadura and La Manca beside the busy tourist tails.
First photo exhibition opened! (June 2010)
Come and find out how photography has been affecting my daily live in Asturias, and share with me a versatile selection of captured moments that will be displayed in Cafe Lider, c/ Comandante Vallespin 66, 33013 Oviedo Spanien.
Opening date: 26.6.2010
I´m looking forward to meeting you there!